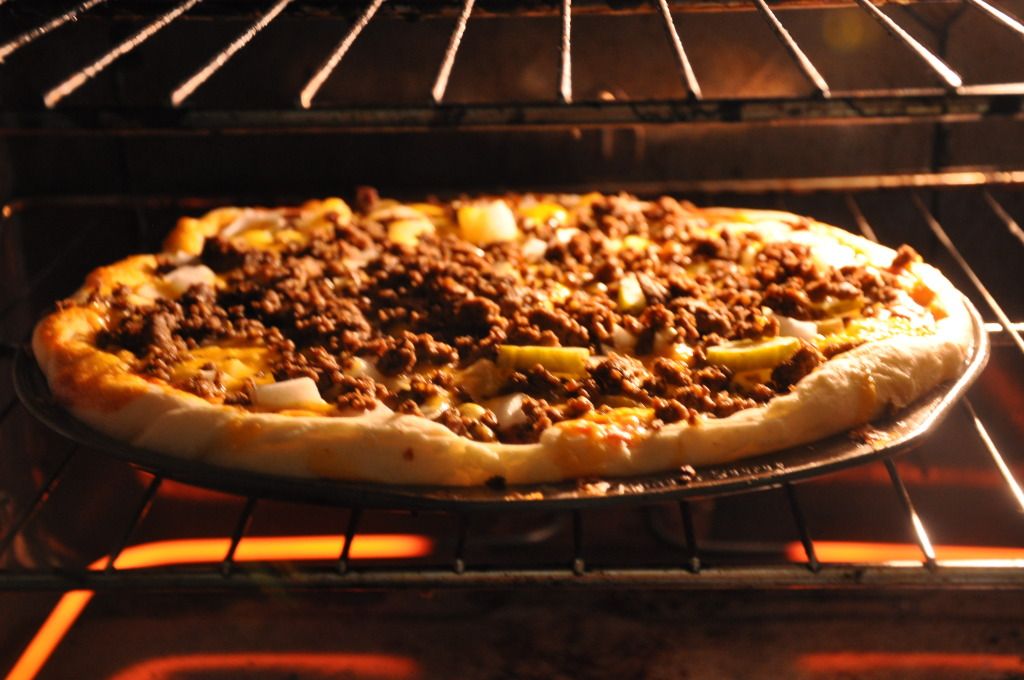 How good does that look!?!
A week ago, one of Ian's best pals came for a visit. He and Ian used to be roommates and have known each other since high school. They're bros, like, for real. They know each other so well, it's kind of ridiculous. Anyway, one of the things the boys have in common is that they love to cook. Actually, more than loving to cook, they love to cook ridiculous things. They think something up and then they do it, without even batting an eye. I think Ian told Allan about four times during his visit that one of the things he loves the most about their friendship is their follow through.
OK. So on to the food. After we visited the hot springs, had ice cream and went mini golfing, the boys decided it was time to make three homemade pizzas. Yeah. Three large homemade pizza for the three of us. I was a little skeptical, suggesting that might just be a touch too much food for three people, but they weren't having it. It was pizza night and there were going to be three pizzas.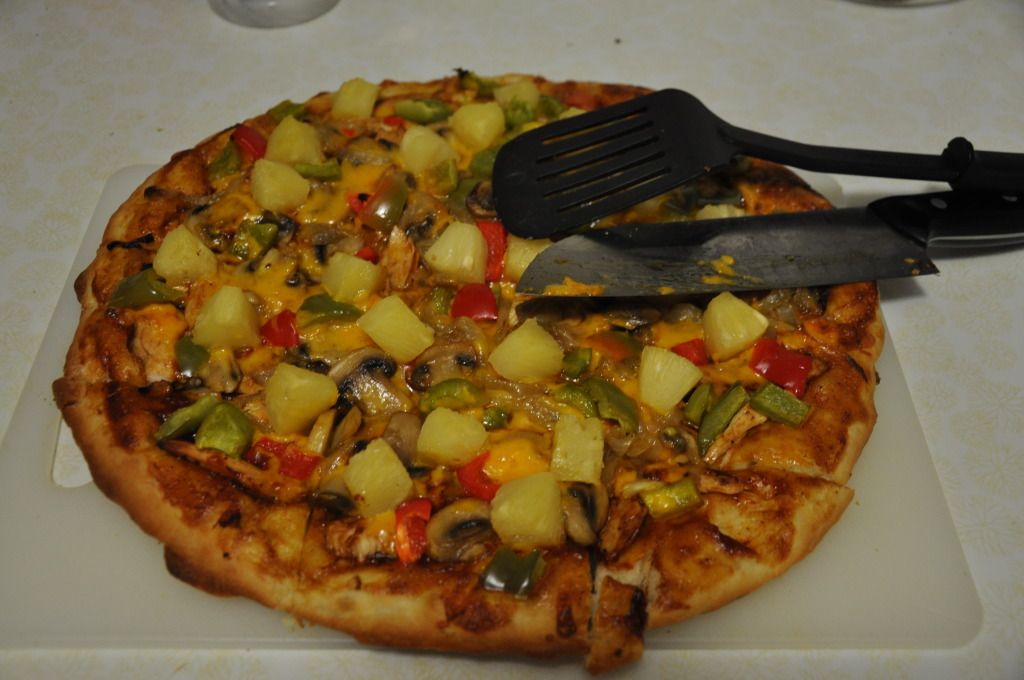 And these weren't just any pizzas. These were gourmet. The first photo is of a cheeseburger pizza, which once cooked had lettuce, tomato, pickles and a special sauce sprinkled on top. (That one was my favourite!) The second photo is of a BBQ chicken pizza, which had sauteed mushrooms and onions, pineapple, chicken, peppers and BBQ sauce. (That was my second favourite.)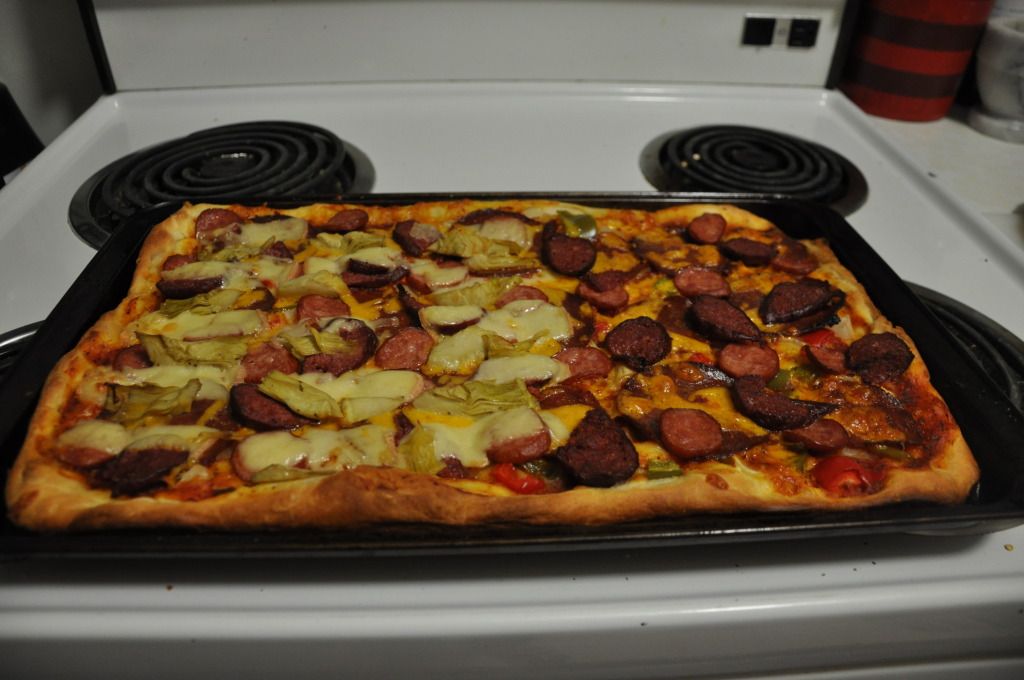 The final pizza was a mixed sausage, artichoke heart, onion and pepper creation. It was also pretty delicious, but up against the other two, it came in third.
Now, you might think that's where the "men that cook" talk ends, but no, no, no, there's more. You see, Allan was here for Thankgiving, so of course we had to do something totally epic in the ol' kitchen to mark the occasion.
What we have here is a de-boned chicken with meat stuffing in the middle and a weaved bacon blanket on top. Yup. We ate that, and it was truly one of the most amazing things to cross my lips.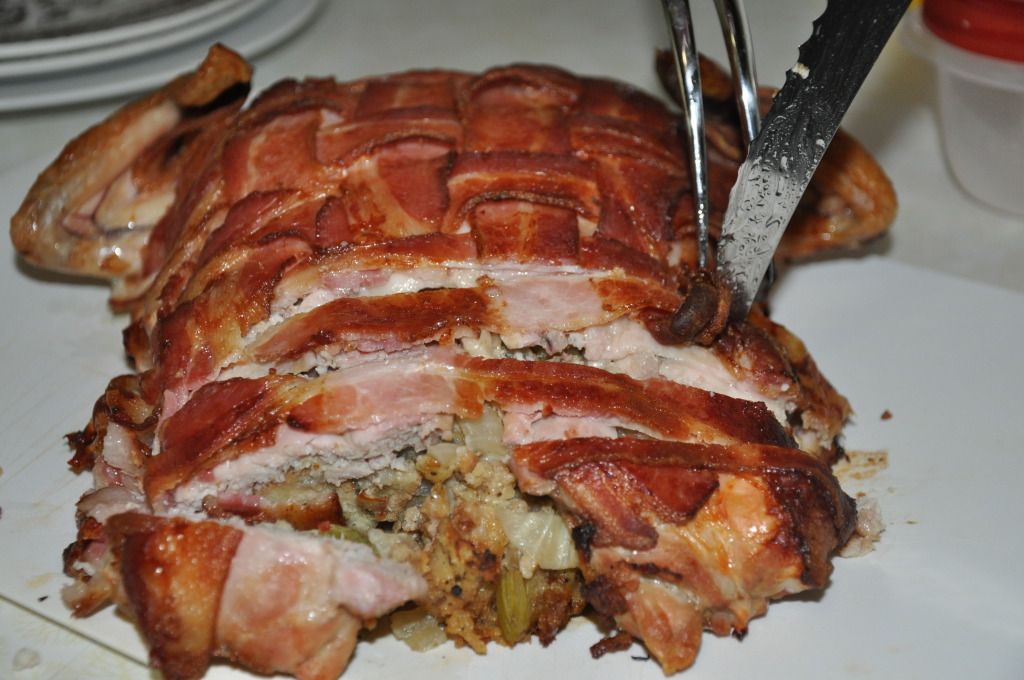 So we ate this delicious meat treat with a bacon-packed meal. We had BLT salad with homemade dressing and croutons and brussel sprouts cooked with bacon, lemon juice and lots of black pepper. Can you say YUM!?!
Well folks, there you have it, the greasy, delicious, ridiculous food I ate last week. I gotta say, I'm pretty blessed to have these men in my life. As a lady who gets very little satisfaction out of time spent in the kitchen, men like these are a heavenly treat... especially since they get so excited when their creations come to fruition.
Do you ever have culinary dreams that just have to come true?