The best thing about salt dough ornaments is no matter how you paint them, they always end up looking like a kid did it. Or, at least, I think so. I whipped up a batch of these for the first time the other night. To be honest, when I started this little project I had no idea how long these ornaments need to bake. Did you know it takes THREE hours on low heat for the dough to loose all of its moisture? Three hours! By the time I took them out of the oven it was 10:30 and I was off to bed. (I know. I know. Insert old lady joke here.)
Despite the fact that my fun, one-evening project turned into a two-day one, I had a blast making and decorating these little ornaments. And, I'm actually pretty stoked on how they turned out.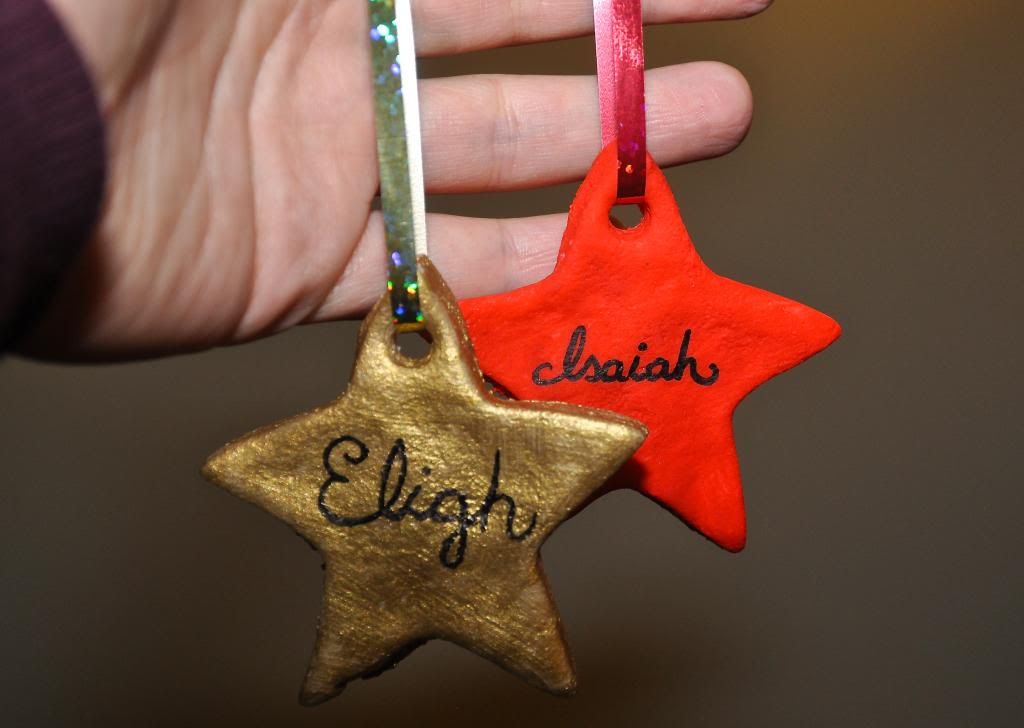 Eligh and Isaiah are my little nephews. I thought it would be fun to make them their own personalized ornaments this year and maybe make it into a yearly tradition. I actually think it would be a lot of fun to do a craft project like this with them. I wonder if I could get a four-year-old and five-year-old to sit still long enough to paint one of these. Hmmm.. I might just have to give that a try next time I visit.
Have you ever made your own salt dough ornaments? If not, give it a try sometime. It's a ton of fun and they're super easy to make. The recipe is one cup salt, one cup flour and one cup of water added gradually until you reach a doughy – not sticky – consistency. Then, roll out the dough, cut them out and use a straw to make a hole in the top. And, finally, bake your ornaments at 100 C for three hours until they're completely dried out. After that, I left mine on the counter for a day and then I painted them with acrylic paint. Easy peasy.
Are you working on any Christmas ornaments? I'd love to see them. I could use some more ideas!